About, Equipment, Landscaping, Party, Event Rentals, Construction Equipment Rental, Bobcat Rental, Tool Rental, Tent Rental,
At Grand Rental of Litchfield, IL, we offer heavy construction equipment rentals along with some of the best tool rentals available. If you don't have the tool you need, we can help, and with the right tools, you can tackle any project. Come on in to see our affordable, large selection for all your rental needs, right here in Litchfield Illinois!
Party Rental Supplies
We have food servers, covers, snow cone, popcorn machines and more. You now have a better choice! Grand Rental Station Litchfield offers the best customer service and quality rental items for the homeowner, contractor, builder, special events planner, and landscaper. For those Do- It-Yourself projects or Professional, our team is ready to help you now! Browse our website or stop by our showroom and see our large selection of rental equipment.
Did You Know That We Are A Supplier of Commercial Products?
Our commercial product availability includes everything from construction materials, office supplies, chemicals, janitorial supplies, to safety equipment. You no longer have to run to the city for unique items. We can supply your business needs!
We invite you to come on in and see for yourself - for every project or event; we have the quality rental item you need! Rental equipment for your party, wedding, cleaning, DIY project, heavy equipment, tools, and so much more!
We offer Delivery and Pick-up Services too!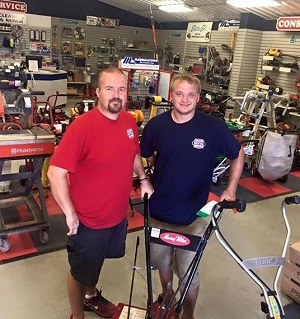 Aaron and Jacob, Grand Rental Station of Litchfield, IL
Services Available from Grand Rental Station of Litchfield, IL
U-Haul Rentals!
Trucks, trailers, the tow dolly and more.
We have moving boxes too! Call us 217-324-4000.

Zero-Turn Mowers for Sale
All Small Engine Repair
Kawasaki Engine Repair
We are constantly adding new specials to our site. Be sure to check back often!
We currently do not have any events scheduled.